Secure Resilient Communications In Poorly Connected Locations
Tactical Wireless will propose an optimum cost effective solution for your requirement.
The principle can be represented using a Quad Chart.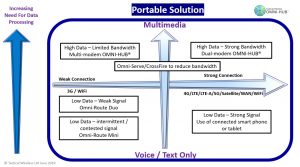 TWL ensures a full understanding of a customer's requirements before recommending an off-the-shelf or bespoke solution. In poorly connected areas, systems need access to multiple routes. Even then, large data requires processing to minimise bandwidth, without losing the usefulness of the transmission. Therefore, TWL analyses the customer requirements based on:
Area of operation (network connectivity, with TWL's hi-gain antennas) and:

The data rate required to achieve operational performance requirements.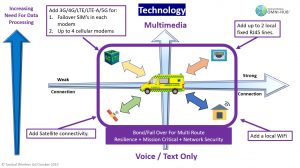 Simple voice / text communication needs low data rate and no video management.  However, live telemedicine data from an ambulance generates high data rates and will need data processing and as high a data capacity as possible. The really challenging quadrant is the top left and TWL has successfully operated here.