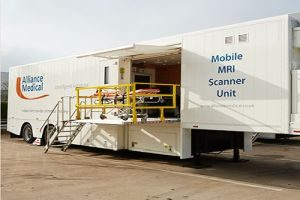 TWL's Omni-Route® products are embedded in trials in a number of NHS Regions, in support of doctors on call and out of hours services. These trials are accessing the internet, e-mails, NHS systems (such as Adastra) and video conferencing. They all benefit from the hotspot providing WiFi calling when a phone has inadequate connectivity but the TWL systems benefit from multiple high-gain antennas and, in some products, multiple networks.
TWL is now embedded into a third round of RAPID development trials. This is an exemplar for home treatment of chronic illnesses.
TWL worked with Aberdeen University to develop a system for transmitting ultrasound images from remote locations, at 95% diagnostic quality. For this, TWL won the Innovation Award at the 2015 Scottish Life Sciences Awards.
In 2016, TWL was again a finalist for the Innovation Collaboration Award at the Scottish Life Sciences Awards, with the University of the Highlands and Islands (UHI), NHS Highland and Highlands and Islands Enterprise, for the Reducing amputations in people with diabetes (RAPID) project.
TWL jointly developed with Kent, Surrey and Sussex (KSSAir) an OMNI-HUB®, based on providing improving capability in its area of operations. The system is designed to be carried in the off position and fits behind the co-pilot's seat.
TWL has integrated a number of medical monitors and has successfully demonstrated the distribution of screen outputs over Omni-Hub.Net.
The OMNI range can be used in many Healthcare scenarios. These include: