Secure Resilient Communications In Poorly Connected Locations
OMNI-HUB® is a single integrated system that reduces the number of components that have to be carried in a scenario where local computing with the data processing requirement is essential and where there is poor connectivity; eg, remote locations. OMNI-HUB® units enhanced features make it suitable for challenges including:
High quality fail-safe video
Evidence based video tracking
OMNI-HUB® units enhance the Omni-Route ® by providing features to utilise local software servers, including CrossFire, by adding:
an embedded PC running Windows 10
a keyboard
a display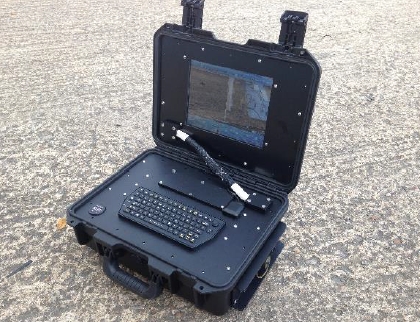 Whilst OMNI-HUB®'s are offered in two models, all these products are, to some extent bespoke. The case comes in two versions:
A sealed unit with Aluminium heat transfer plates, to provide cooling via an external, finned heat exchanger. This product is limited to an i3 processor.
A fan cooled version that can accommodate an i5 or i7 processor.
The build of the embedded PC will be to end user requirements, including agreeing the anti-virus and malware protection and any special requirements, such as a trusted platform module (TPM).
The standard keyboard and mouse is as shown in the illustration. The screens have options for resolution and NITS value.
Both models have two 8Ah batteries.