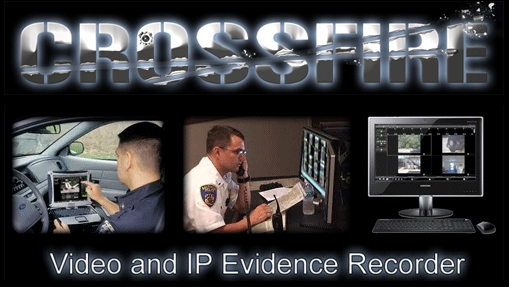 Crossfire - TWL has an exclusive arrangement to sell Crossfire outside of NAFTA. The combination of Crossfire Apps, for iOS and Android phones and tablets, with the secure resilient VPN access to Omni-Hub.Net provides an integrated system to distribute and view images anywhere that has internert access.
A video and IP evidence recorder.
Developed 8 years ago in the US, for law enforcement.
Approved under Federal Evidence Rules in US courts.
Video is stored as date and time stamped JPEG's – never lose integrity.
Sold to Federal, State and local law enforcement agencies and to DoD in the US.
When combined with Omni-Hub.Net:

A Crossfire server can be located anywhere in the network.
Any peripheral device connected anywhere to Omni-Hub.Net can be linked to any Crossfire server in the system.
Any device can be seen from anywhere – IP systems with security due to the need to know both the IP addresses and passwords.

Crossfire Remote Client is free for pc's and there are Apps for Android and iOS.
Any smart phone or tablet can be converted to a Crossfire enabled camera and be seen anywhere in the network.
Omni-Hub.Net central hub can be accessed via an IPSec VPN link, to enable anyone with an internet connection to access either live or recorded video.
More Information